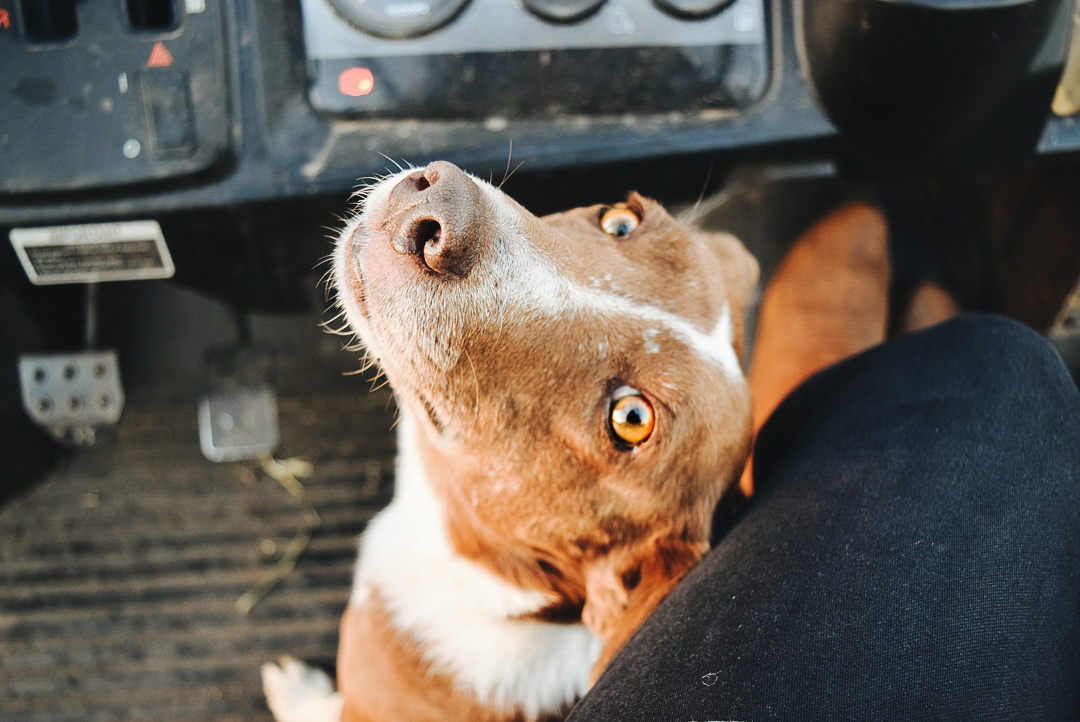 guest post: naomi + nathania fuad
Spreafico Farms is located just nine miles from the heart of downtown San Luis Obispo, nestled between sprawling vineyards along Orcutt Road. Before Naomi and I had even stepped out of the car, Brandon came walking out, waving and smiling warmly with his dog Ruby at his heels. He had come straight from cattle ranching and was ready to answer all of our questions. He chuckled and asked if it was okay for us to just walk and talk; he said a ranchman like himself couldn't sit pin straight and answer interview questions in a room.
From the moment we met Brandon, we felt that there was something so warm, homey, and personable about him and the venue itself. Brandon graduated three years ago from Cal Poly, San Luis Obispo with a degree in agricultural business. After graduation, he returned home to help his family with the ranch, and he is now the coordinator for all the events—most of which are weddings—that are held at Spreafico Farms.
Brandon explained that it was his dad, now 74, who built up the ranch back in 1973. While the ranch's original focus was dairy, they now raise cattle for beef. Throughout the decades, the Spreafico family has expanded what their 620 acres offer. These days, Brandon and his dad work with the cattle and produce red rock, and Brandon's sister farms fresh produce for daily farmers markets down the California coast, reaching all the way to Los Angeles. Even with so much going on, the Spreafico family continues to run the farm without additional help. Brandon said, "We all do everything together—that's how he raised us. My dad's the hardest working man I know."
It wasn't until eleven years ago, when a cousin wanted to use their barn for his wedding, that the Spreafico family decided to start utilizing their ranch as a venue. Brandon's dad worked on transforming the old dairy barn into a venue fit for a wedding. Not long after, a family friend also wanted to use the barn, and before they knew it, the barn-wedding trend exploded. The family decided to rent out the barn to the public for weddings, and within the first year they had fourteen weekends booked. It's now their fourth year hosting weddings on their property, booking an average of thirty-two weekends out of the year for couples from all over the nation.
As Brandon led us through all that their venue had to offer—like the newly added bridal changing area and the gorgeous barn—Naomi and I were amazed at how much renovation the family had done to their property to strengthen their new business endeavor. Brandon said, "I'll take the bride and groom wherever on the property they want to go for photos—oak trees or rolling hills you name it…just seeing how happy the bride and groom are is especially rewarding. It's the biggest day of their life and they share it with us." The family also allows the couples to chose whichever vendors they would like to bring in for their wedding. The approach at Spreafico Farms is clearly rooted in hospitality, flexibility, and intimacy.
The Spreafico family is currently dreaming up ways that they can continue to expand. From opening their own house up for the wedding family to creating personalized décor pieces, the Spreafico family has exciting things in store for the venue.Our favorite part of our visit to Spreafico Farms was the golf-cart ride Brandon took us on to catch the sunset at the ranch's prime photo spots. We drove through rolling green hills and passed masses of cattle that stared at us with confused faces.
What's your favorite part of the wedding nights?
The dessert! We've seen anything from s'mores pits to miniature cupcakes to massive cakes.
What have you learned from your dad in this process?
I used to be super shy. I learned you have to be able to talk to people. He pushed me to go out and talk to people [and introduce myself]…As the owner it makes a huge impact on your clients, and it makes them want to come back.
What advice would you have for the bride in the wedding-planning process?
Don't stress out too much on the day of! The bride is always so nervous before the ceremony, but she always looks extremely relieved afterward. Also, if you're going to focus on a décor piece for a barn wedding, let table settings be the big thing. We want our barn to be a blank canvas, and we hope that whatever the bride [envisions], she'll do.
What is something you've learned in the process of stepping into the wedding industry?
I get why venues don't like confetti—allowing it was the worst mistake ever. I will never allow it [again]. It gets on everything from the ceiling to the ground; you'll never be able to get rid of it completely.
Tell us a little about the San Luis Obispo wedding community.
The wedding community here is so helpful. [There is] not one vendor who makes it alone. Everyone needs to come together, and there are certain individuals who support it so well.
Do you have any memorable weddings off the top of your head?
You definitely meet people from all different walks of life doing this type of job. Our last bride was actually the music producer of Dancing with the Stars! They insisted that my dad and I sit at one of the tables to enjoy the reception. We were really touched. At another wedding, we had the head cartoonist of the Simpsons here!
For a bride who's interested in your venue, what are the general amenities that Spreafico Farm offers in its general package?
One whole weekend
Huge on site parking lot
Heated barn
Back patio
Bridal changing area
Outdoor ceremony area
Drinks bar
Day-of assistance
Access to the whole property for photos